Rohingya refugees are turning to blockchain-type technology to help address one of their most existential threats: lack of officially-recognised identity. Denied citizenship in their home country of Myanmar for decades, the Muslim minority was the target of a brutal campaign of violence by the military which culminated ...
Myanmar leader Aung San Suu Kyi has defended her government's actions in Rakhine state which have forced more than 700,000 Muslim-majority Rohingya to flee their homes and seek refuge in neighbouring Bangladesh. Keep reading ...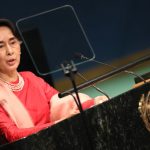 Burma's State Counselor and Minister of Foreign Affairs Daw Aung San Suu Kyi addresses the 71st United Nations General Assembly in Manhattan, New York, United States on Wednesday. NEW YORK, United States — Daw Aung San Suu Kyi made her first speech Wednesday at the UN General Assembly since forming a democratically elected ...

Contact us
Thank you for taking the time to get in contact!