Civil and political rights
Reuters found more than 1,000 examples of posts, comments and pornographic images attacking the Rohingya and other Muslims on Facebook. A secretive operation set up by the social media giant to combat the hate speech is failing to end the problem. Keep reading ...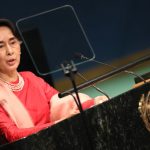 Burma's State Counselor and Minister of Foreign Affairs Daw Aung San Suu Kyi addresses the 71st United Nations General Assembly in Manhattan, New York, United States on Wednesday. NEW YORK, United States — Daw Aung San Suu Kyi made her first speech Wednesday at the UN General Assembly since forming a democratically elected ...