(City planning and architecture)
Yangon Region Chief Minister U Phyo Min Thein said that the regional government will launch the Yangon New City project in Kyeemyindaing township, but firms involved in the Yangon Southwest New City were not informed about the new plan. Keep reading ...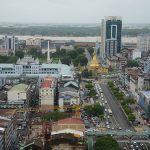 Concerted efforts are being made for a zoning plan in Yangon Region to go from draft to law, it is learnt from the City Planning and Land Administration Department under the Yangon City Development Committee (YCDC).Keep reading ...