Local fish market in Ayeyarwady delta, Photo by Jharendu Pant, Flickr, taken 27 November 2012. Licensed under CC BY-NC-ND 2.0.Myanmar's fishery sector has been the fourth largest contributor to the national gross domestic product (GDP), and the fourth largest source of foreign exchange earnings in ...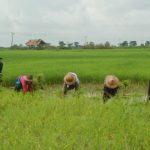 Myanmar has historically been an agrarian society, meaning that agriculture the agriculture sector accounts for the majority of the country's economic output. The 2003 Myanmar Agricultural Census showed that there were about 3.46 million farm families, cultivating about 8.7 million hectares of land.1 The estimated annual ...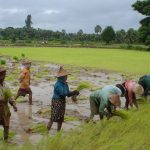 Farmlands in Burma. Photo by Rijstvelden, taken on 7 October 2006. Licensed under CC BY-SA 3.0Agriculture is the mainstay of the Myanmar's economy, contributing 37.8 percent of gross domestic product (GDP) in 2010, down from 47 percent in 2005/2006. Agriculture, which includes crops, livestock, fisheries ...